On the 4th of August 2020 a devastating explosion destroyed large parts of Beirut, including some of the city's most treasured heritage.
Maya Husseini is a Beirut-based stained glass artist who saw 20 years of her work largely destroyed by the explosion.
To support Maya's work you can donate in the following ways:
Bank Transfer:
Branch Name: Hazmieh branch
Bank adresse: Hazmieh – Mar Takla- Street PO BOX 11 5605- Beirut- Lebanon
SWIFT code : BYBALBBX

In USD:
IBAN number : LB97003900000003353205709070
Number: 3353205709070
Beneficiary's Name: MAYA EL HUSSEINY

In Euros:
IBAN number : LB97003900000003353205709069
Number: 3353205709069
Beneficiary's Name: MAYA EL HUSSEINY
If you are unable through this method, you can also donate via paypal to Maya's son Joey Ayoub who will transfer it to her directly. His paypal account is ibnbaldwin@gmail.com or just ibnbaldwin
---
Her work and the aftermath of the explosion were featured in multiple news outlets including:
– BBC News: Beirut blast – Painstakingly restored stained glass destroyed in seconds
– New York Times: The Beirut Blast Shattered Her Masterpieces. Now, the Rebuilding Starts.
– Radiotelevisione svizzera: La vetraia di Beirut. Il Libano si rialza
– Middle East Monitor: 'My life's work is destroyed,' laments artist after Beirut explosion
– Reuters: A life's work shattered stained glass artist counts cost of Beirut blast
– CBC's As It Happens: Beiruts' historic stained glass shattered in minutes
– Al Arabiya: Decades of stained glass artist's work obliterated in Beirut blast
– LBC: عمل العمر الضائع فنانة زجاج ملون تتحسر على خسائر انفجار بيروت
– L'Orient-Le Jour: Maya Husseini : On va reconstruire Beyrouth et restaurer ses vitraux brisés
These include the following churches and museums.
---
Sursock Museum, before and after

---
Cathedrale Saint Louis des Capucins/St. Louis Cathedral,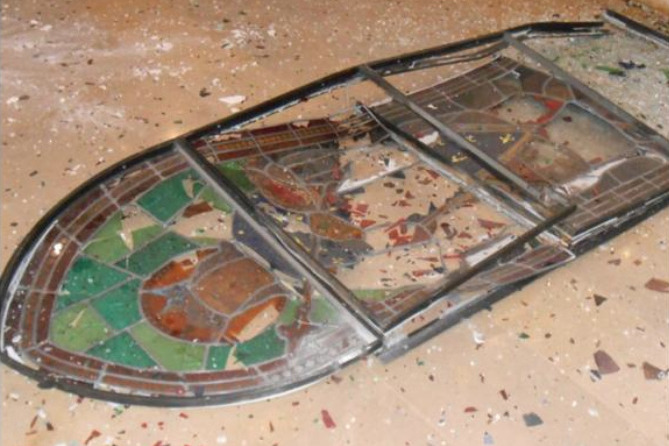 ---
National Evangelical Church of Beirut
---
Stained glass from the 19th century that Maya Husseini renovated:
---
Terra Santa Church Gemmayzeh

---
Eglise Maronite de Saint Elie